If you're into Mortal Kombat, you should also be into
- Teenage Mutant Ninja Turtles
- Flash Gordon
- Star Trek: the Next Generation
TMNT should help you appreciate Mortal Kombat's emphasis on old-style marial arts.  TMNT has much emphasis on Japanese ninjas coming to New York.  Check the early 80's comics, 1990 movie, 2003 cartoon, and the newer 2012 cartoon, 2011 comics . . . lots of ninjas.  Also, the Purple Dragons gang appeared in issue 1 of the TMNT comics, a little like Mortal Kombat's Black Dragon gang.  However, both might be named after the real life Black Dragon gang.

Flash Gordon should help you appreciate Mortal Kombat's emphasis on grand adventure, mostly with Mortal Kombat II, in Outworld.  Flash Gordon is a polo player (football in the 1980 movie) who, alongside girlfriend Dale Arden and half-crazy scientist Dr. Hans Zarkov, takes a rocketship to planet Mongo, ruled by Emperor Ming, to travel through 8 regions of the world to get to his Imperial Palace.  There's a grassland region, an ocean region, jungle, desert, sky/clouds, so, basically a precursor to Super Mario Bros. 3's formula for adventure.  Flash Gordon interacts with many species - lizard-men, lion-men, shark-men, basically a bunch of animal-men, many species that are each ruled by a general, with all the generals working for Emperor Ming.
Cryo, the Ice Realm, my own addition to Mortal Kombat, was certainly inspired by Flash Gordon, with its Frigia, the Ice Kingdom.  That was the only thing the 1980 Flash Gordon didn't really show!  Frigia.  Watch the 1936 and 1940 movies - WAY better.  (1936: Flash Gordon.  1938: Flash Gordon's Trip To Mars.  1940: Flash Gordon Conquers the Universe.)  In the 1940 movie, it is said that the people of Frigia are keeping their secrets, of how they survive in their freezing cold environment.  In my story, not only do I add Cryo . . . since MK Deception said that Sub-Zero has ancestors, the Cryomancers, who "came from somewhere" . . . I also add Khione, Greek Goddess of Ice, to be the appointed guardian of that realm.  Mortal Kombat does not have that many Goddesses, I feel, so I've added Khione, Theia, Luna, Venus.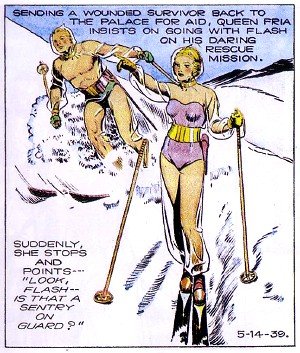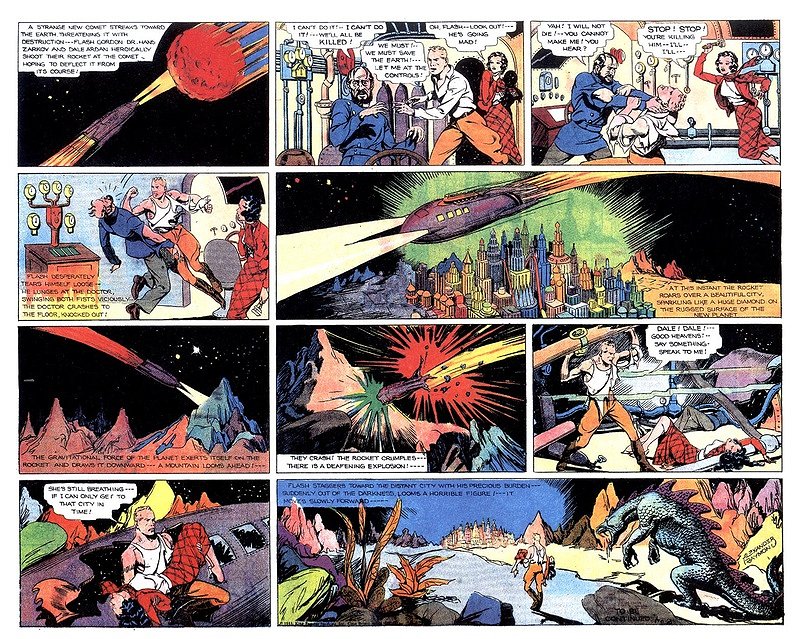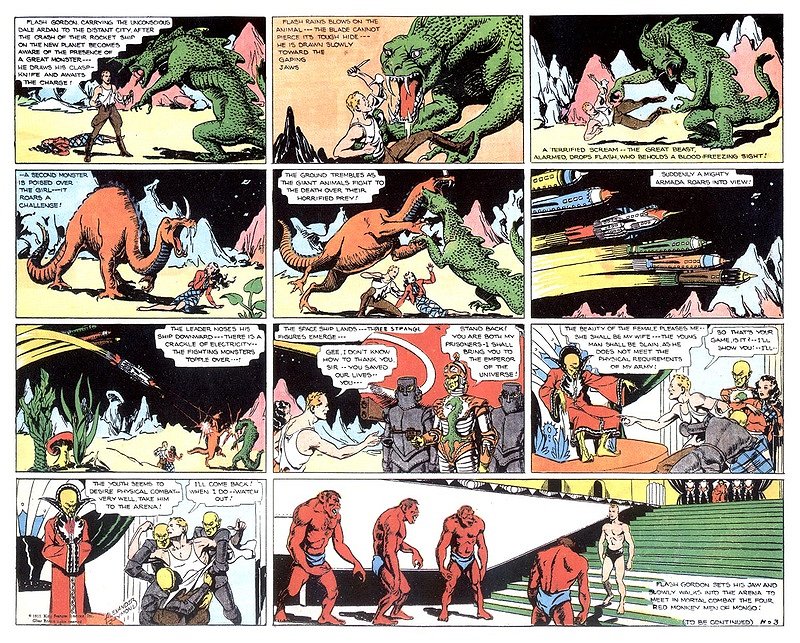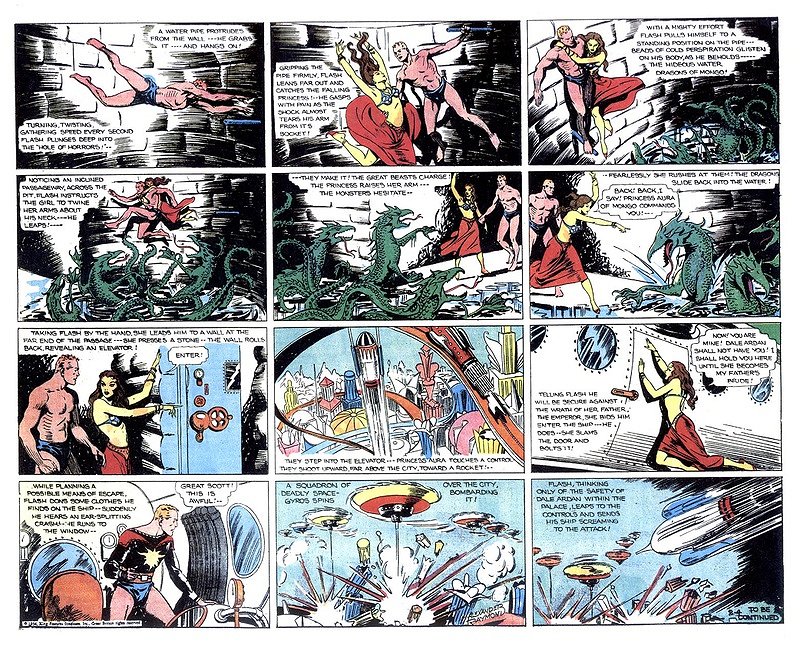 And definitely, Princess Aura helped to inspire Mortal Kombat's Kitana.  At first, in Mortal Kombat 1, it was to be Kitsune (named after the Japanese shape-shifter foxes), princess daughter of Shang Lao, who falls for Liu Kang and betrays the evilness of her heritage.
Flash Gordon should feel like a precursor to the Mortal Kombat cartoon show, which likely was taking a Flash Gordon approach to MK.  Flash Gordon had a 1979 animated movie, with action, excitement, curse words, and adult-level discussions of Hitler's activities, as the 1979 movie takes place in 1939.  Check out that movie - it should remind you of MK: Defenders of the Realm.  So should the Planet of the Apes cartoon show.  What else should remind you of it?  An 80's cartoon called "Defenders of the Earth."  Flash Gordon, Mandrake, and the Phantom - 3 separate comic strip heroes - paired together to fight evil.  Just like the 80's "Spider-Man and His Amazing Friends" - Spider-Man, Iceman (of the X-Men), and the Human Torch (of the Fantastic Four), except the studios said this would inspire kids to play with fire, so they made Human Torch into a girl named Firestar (like turning black guy Stryker into blonde girl Sonya in Mortal Kombat 1).

Flash Gordon, with its planet Mongo, its ray guns, its gigantic Imperial Palace of Emperor Ming, not only inspired Super Mario Bros. 3, and likely the 1993 Mario movie, and the Justice League, and Mortal Kombat, it also likely inspired Superman (Flash Gordon on Mars . . . Superman on Earth), Batman (Comissioner Gordon), Spider-Man (jerk Flash Thompson), and especially, Star Wars.
Star Trek: the Next Generation can feel, at times, like Mortal Kombat in Space.  This late-80's TV show has many species in it.  Star Trek's creation of the Klingons are constantly exploited.  But the Next Generation also adds new recurring villain species, like the Ferengi, and the Borg.
This may have helped to inspire Baraka and the cybernetic Lin Kuei seen in Mortal Kombat 3.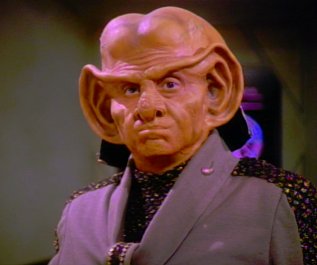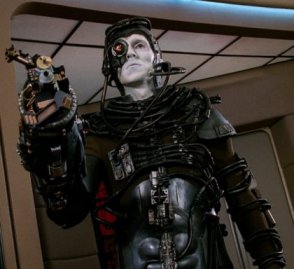 Ferengi n' the Borg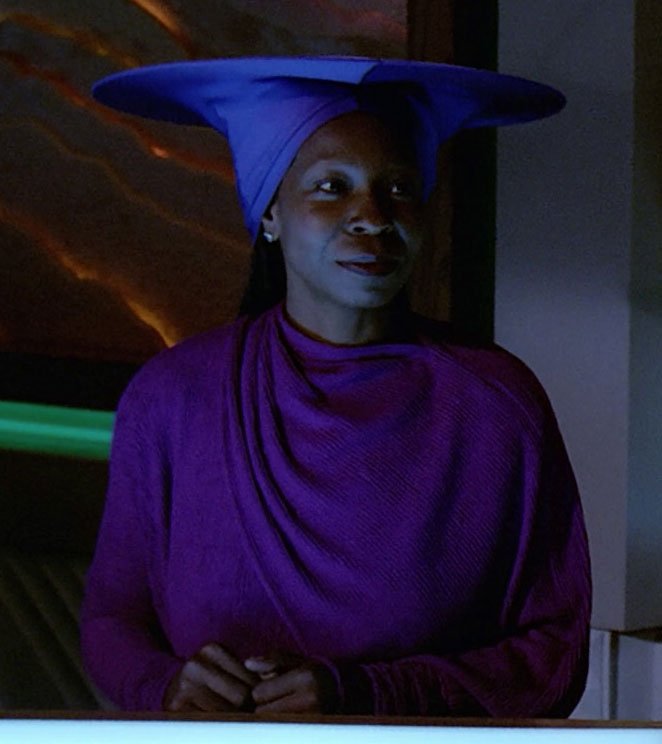 So, yeah.  Mortal Kombat in space.

Watching this show, I think: I should pay attention to these costumes.  The Whoopi Goldberg costume may have been a source of inspiration, helping to inspire Ashrah in MK: Deadly Alliance, who knows.
60's Star Trek - Portals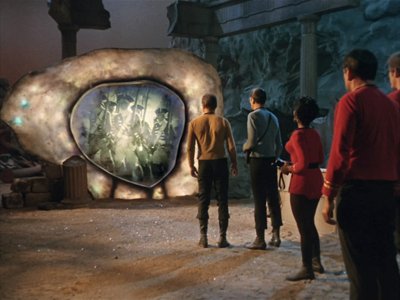 "The City on the Edge of Forever" -- 60's Star Trek

In the days of my parents' youth, Star Trek involved portals between worlds.  Whoa.  It's not just a video-game word after all.  My Dad saw portals in Star Trek in the 60's.
In this episode, they jump into a portal to 1930's New York, and end up stuck there.  A woman's life is saved, who, originally, had been run over by a truck.  But the saving of her life may have a consequential effect of causing the Nazis to win the war.  The important thing is, PORTALS.  They've alawys been around.

In those days, when the Flinstones was on TV, a portal was considered to be like a machine - a giant round rock containing the gateway.  The cartoon show, MK: Defenders of the Realm, showed portals as gateways without machines.

So, again, that's Ninja Turtles, Flash Gordon, and Star Trek: the Next Generation.  All 3 should help you appreciate Mortal Kombat a little bit better, as well as the Planet of the Apes cartoon.
Also, of course, Big Trouble in Little China played a large part in inspiring MK, with Chinese mythology, a very old Chinese man, black blood of the Earth . . . a really cool movie from the 80's.
Another thing Flash Gordon inspired in Mortal Kombat: the marriage between Emperor Ming and Dale Arden - the marriage between the Emperor Shao Kahn and Sonya, in the 90's MK comics.  It had also inspired some early-90's Super Mario World manga comics with a brainwashed marriage between Bowser and Princess Toadstool.  Similar things happen in Big Trouble in Little China.
In my story, MK Mythologies: Shao Kahn, I show the brainwashed marriage between Shao Kahn and Sindel - something always said to have happened long ago, in the backstory of MK - now shown in a more Flash Gordon-ish way.