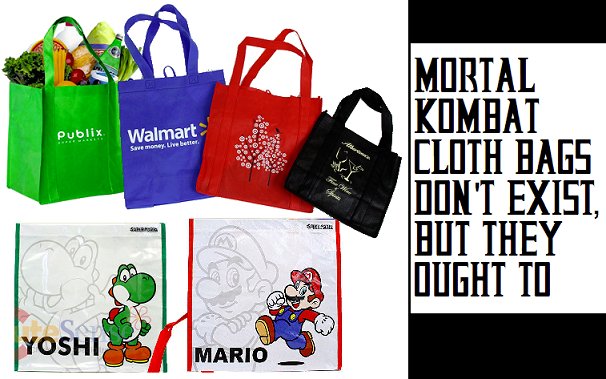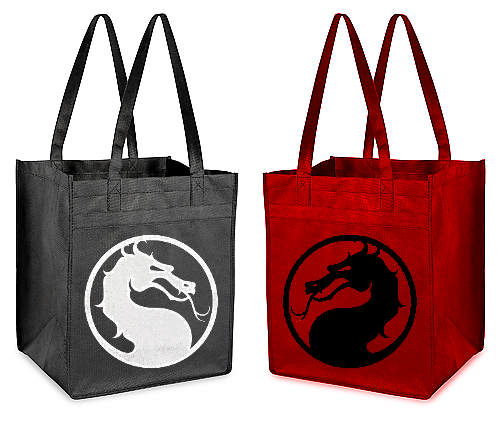 I wish these things existed!  A variety in colors would help make it further marketable.  Maybe dark blue against blue.
I got this idea from the Lion King.  You see, the Lion King, the movie, was released in 1994 or 5.  At that time, I was in 2nd grade.  I loved that movie.  I had some of the toys, the comics, the trading cards.

In 2011, the Lion King was re-released in theaters, this time in 3-D.  Not only was it back in theaters, but a marketing promotional campaign was conducted that had Lion King toys back on the shelves of stores in 2011.  The popularity of the Lion King from 1994 was back!  For today's kids.
Wow.  And to think that Mortal Kombat, as a series, seemed "over" for a few years.  2000.  2001.  It seemed to be a thing of the past, and it was upsetting to think that a source of so many joys - games, movies, TV shows, comics - had simply died and would no longer produce new joy.  After a while, Mortal Kombat came BACK with 2002's MK: Deadly Alliance, an overhaul on the series.  But to think!  All you really have to do is re-release a movie in theaters, with no new content, and the popularity and spirit it had 20 years ago is BACK!  All it really takes is a 20-year anniversary.  (There's a certain rule of life that things bounce back after 20 years.)  The Lion King also has a really good TV show, "Timon & Pumbaa", in 1999.  I like that show a lot.
So of course I saw it in theaters in 2011.  Similarly, in 1993, Snow White and the Seven Dwarfs had been put back in theaters, and THAT had been my favorite for a while, before the Lion King.  I went as Dopey, the dwarf, for Halloween, wearing the Dopey style shoes, pointy ears, and an oversized green robe.  Why?  Because toys, costumes, all kinds of merchandise for Snow White was STILL IN STORES, making it CURRENT, NEW, POPULAR, despite it actually just being a re-release of an old movie.  Not quite the same as just watching an old movie in your house, alone.  It was current for everyone again.

Why should there only be a small, limited window of time for the world to enjoy the popularity of a movie?  The Lion King, Snow White.  After a few months, the size of any movie's audience dwindles down, and a new movie takes over.  But why let a movie only last a few months out of the whole century?  Why not re-release more things?  Forget most of the new garbage they come out with.  Just give me "Aladdin" in 3-D!
Well anyway.  The point is, I remember having some Lion King toys and comics as a kid in 1994, so in 2011, when I was 23, I had to look at how they were re-marketing the Lion King.  I remembered Snow White and the Seven Dwarfs, and taking YEARS to learn that it was not a movie made in the 90's, but a re-release of something older.  This is the Lion King, for the kids of 2011: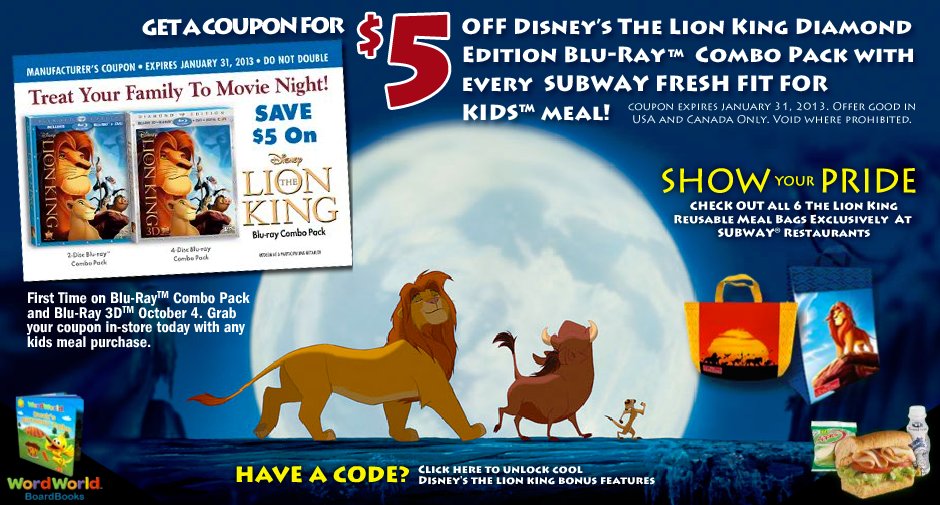 Oh!  Right!  Get a discount on the Blu-Ray disc if I use my kid credit card!  Right, of course, because NOBODY has a DVD player these days.  NOBODY.
You see my point here.  When the Lion King came out in theaters, you know what I was thrilled to own?  A VHS copy - bootlegged, filmed with a video camera in the theaters, by some guy who later got arrested - that my Dad bought me, off a street corner in Washington, D.C., in 1994.  I was the only kid on my block to have VHS copies of the Lion King, the Mask, and True Lies WHILE THEY WERE STILL OUT IN THEATERS.
Now it's 2014 and kids can simply download it via satellite via cell phone before it's even in theaters.
Well, it look a lot of years to grow to that point.
1994 - the Lion King VHS.
1995 - everyone starts to learn what the Internet is.
1997 - everyone starts adding Internet to their home.  People start learning about the mp3 file format.  A 10-second clip from an episode of South Park can be downloaded in 10 minutes.  Not possible in 1995, using the Internet on the library.
2000 - faster Internet starts taking over.  Wireless Internet starts taking over.  Internet separate from the house phone starts taking over - no more crashing the Internet every time the house phone is picked up.  No more logging on.  No more logging off.  Now you're just connected 24/7.
2001 - the explosion of downloading songs on mp3 begins.
2002 - it becomes common to download movies, even episodes of TV shows, onto your computer.  Bootlegging music has led to this.  PDF files of comic book bootlegging - free, illegal - becomes its own scene.
2011 - An iPhone app, a coupon off a Blu-Ray disc, and a cloth bag for environmental consciousness, is the merchandising that accompanies the Lion King.  Not like 1994.  Not a handful of plastic toys that look like Lion King characters.  Video-games on the Super Nintendo, Sega Genesis, Nintendo Game Boy, Sega Game Gear.  NOPE.
2014 - I still am not high-tech enough to own a Blu-Ray DVD player.  This is 3 years after the Subway advertising campaign completely fails to acknowledge the DVD players that some of us still use.
iPhone app?  You would not have that in 1994.  Coupon off a Blu-Ray disc?  These kids are just spoiled.  Cloth bag?  Now that's an interesting one.  For sure, this is what marks the identities of 1994 and 2011.  The 2011 Lion King merchandising campaign includes a cloth bag.  Nobody had ever heard of such a thing in 1994.  "What do you need this thing for?  This is no toy," any REAL kid in 1994 would have said.  "We've got plenty of plastic.  Plenty of money left over.  We don't need to conserve!"
To give a kid a cloth bag and say that it's the merchandising of the Lion King . . .
. . . well, wait, that's kind of cool.  Not much different from a Lion King backpack.  Another note - backpacks did not exist yet, in the 1960's.  Kids had to carry their books around.  So, now imagine a Snow White and the Seven Dwarfs backpack, made in the 90's, or made in 2014.  Very possible.
Toys these days are becoming excessive.  They were all at just the right level of excess in 1994.  Same with video-games.  Now toys cost $80, they're incredibly complex, and they leave zero room to your own imagination.  But a cloth bag?  Instead of using plastic bags at grocery stores, use a cloth bag.  If you can get to a point of consuming zero plastic, you're doing your part!
That's an interesting concept.  It certainly reflects the society we live in now, in 2011 and 2014, where cloth bags are commonplace.  At first, I say, nah.  It's a nice thought, but the world will never adapt to everybody having cloth bags.  One or two people can do it, but they will be alone.  But then I learned about the movements being spread through various stores.  When I worked at Target, on Earth Day they had a free cloth bag give-away, one bag to every person.  I started to learn that, yes, changes can happen - the car can overcome the bicycle, the DVD can overcome the VHS.  It just takes a lot of work to get everyone in the world to convert, but once that's done, you end up with the end result of total harmony.
Cloth bags, as a form of merchandising.  What did I notice in Toys R' Us in 2011?  Some action figures of Mortal Kombat, totally redesigned, re-imagined.  Reptile now wears all black.  Raiden is now completely white, in a new "pure energy" form.  Wow!  And to think that MK was considered OVER with in 2000 and 2001!  Like the Lion King, Mortal Kombat was back!
There are Mario cloth bags.  One with Mario.  One with Luigi.  One with Yoshi.  One with a complete roster of all the characters.  Sonic the Hedgehog cloth bags.  In the 90's, Mario and Sonic were rivals - Nintendo and Sega.  They were engaged in a competition, and the cloth bags reminded me of their former competition.  "Cloth bags" are the new "thing" that everyone's getting into.  Hey, this is way better than the $80 complex toys they market to kids these days!
I bought a Yoshi cloth bag.  Now, at age 26, I would rather have cloth bags in solid colors, green, black, but still, to think - this is one way to get young people excited about cloth bags, a way of reducing and even entirely eliminating our consumption of things like plastic.  A Yoshi cloth bag.  A Sonic cloth bag.  One cloth bag for the villain, Bowser.  This is not a bad way to market environmental consciousness!
And then it hit me.  Mortal Kombat.  Kloth bags.  WHEN??
Wouldn't that be great?  One cloth bag for Sub-Zero.  One for Scorpion.  One for Reptile.  Like with the Mario characters, just pick and choose your favorite.  Some people would buy the Princess Peach cloth bag.  Maybe some people would buy a blue Kitana cloth bag.  A purple Mileena cloth bag.  Now that would be a stylin' way to not use plastic!
Cloth bags are a lot more useful than you think.  It's just one of those things you assume you don't need, but after you have one, you realize . . . whoa.  I can't believe I didn't make this small, simple move earlier!  I have shopped at 3 stores in a row, Publix, Dollar Tree, CVS, and had EVERYTHING put into ONE cloth bag, using up ZERO plastic bags.
Why buy a cloth bag?  For a dollar or two?  Without one, you end up with a LOT of plastic bags in your house.  And what do you do with them?  What do you do with 100 plastic grocery store bags?
1 - Use them as garbage bags?
2 - Put them in an empty wastebasket, so that you're not putting trash directly into the empty bin?
3 - Keep a few in your car, to be used as garbage bags?  Then, you can have a concrete way of enforcing the rule that nobody in your car should EVER throw garbage out the window.  Remember to scream at your friends: "Don't EVER throw garbage out the window!  There's a trash bag right here."  Always keep a few in the glove compartment or backseat.  Additionally, this habit makes it easier to clean your car - when you notice it's gotten dirty, it can take only a minute to get it all clean again when you've got a plastic bag to put all the garbage into.

Okay, so you may have some need for plastic bags.  But not 100!  Buy a cloth bag.  Then, you won't have these excess plastic bags in your house anymore.
Remember - Publix, Dollar Tree, CVS, and all my groceries fit in ONE cloth bag.  Why is this a big deal?  I put my groceries away and completely SKIPPED that whole step of getting everything out of the bags, stuffing them tightly into a drawer, and so forth.
Mortal Kombat Team, imagine cloth bags being made.  That would be nifty.
But then I thought, what could *I* do, to do *my* part, environmentally?
How about ride my bike around Boca Raton, Florida, for miles and miles and miles, throwing out over 100 garbage bags worth of garbage that I found on the side of the road and sidewalks?  Beer cans.  Beer bottles.  Piles of broken glass that I removed with a dustpan and brush - in the old days I would just ride around the glass or simply ride over it and just hope there's no damage.
This is why I have yelled and screamed at total strangers, and even best friends, after seeing them throw glass bottles out the window.  You spoiled brats - you haven't even had your car taken away, like I did, and what you do with your life of privilege is to throw bottles out the car window?  And to say "Shut up"?  I don't think so!
You can do your part, by screaming and yelling and simply not breaking - not saying "Okay, you're right, I should throw bottles out too".  Just don't give up.  Try to get your friends to take on that permanent habit of keeping some plastic bags in the car.  A day or two later, it'll come in REAL handy.
But then I thought.  What could I do, to use Mortal Kombat as a means of spreading environmental consciousness?
How about simply show the beautiful state of Edenia, as it was before, and then show the ruined, polluted Outworld that it became?  At the end of a flashback scene, Shao Kahn could throw garbage all over the ground, carelessly, in the ruined fields that used to be Edenia.
That, in a movie in theaters, might actually get people to stop throwing garbage on the ground!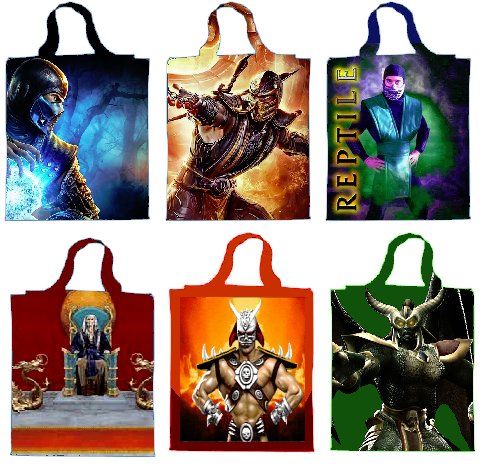 These would be nifty.  If they actually existed.
Okay these pictures look kind of crappy and obviously fake, but: imagine original John Tobias artwork being done for cloth bags.  Baraka and Kitana/Mileena could also have their own.  This would cause millions of people to start using cloth bags over plastic.