The only MK game to ever have the Kreate-A-Fighter mode is MK Armageddon. Like the Impale move in Deadly Alliance, and the Hara-Kiri in Deception, it seems to be a one-time only thing. I say, every MK game should include this feature.  
This must return in the upcoming 2015 game. Must!
But, what else could be done to escalate the custom fighter mode's greatness?
1 - Narrator Pronouncing the Customized Name
Maybe they could create some attempt at the narrator, who says "Mileena wins" and such, saying out loud the name of the custom character, followed by "wins".
For instance, the narrator's voice could record a list of many possible names people would come up with. 20 names off the top of my head: Al, Axel, Iris, Azrael, Azazel, Quentin, Brock, Misty, Miss (for a name read as Ms.), Mister (for Mr.), Ed, Edd, Eddie, Griffin, Griffith, Peter, Bart, Jackie, and so on. So, Eddie Cage could be pronounced. After covering plenty of whole names, so that their recording would sound smooth, there is no way that could cover everything in the world, so, to cover every remaining possible name, imagine a system of connecting written letters with corresponding audio recordings.
For instance, record a guy saying:
"Ab. Ac. Ad. Aeee! Aff. Ag. An."
"Mo. Muh. Mi. Mee. May. Mah. Mun. Mon. Min."
"No. Nah. Nuh. Nee."
"Or. Omm. Ome."
"So. Suh. Sah. See."
Then, when naming your custom character NAOMI, the recorded syllables "Nay", "ome", and "mee" would be stitched together so that the narrator would seem to be saying "Naomi", yet also be capable of pronouncing the name "Capcom", "Red Skull", "Green Goblin", and so on.
Lucky (the Lucky Charms leprechaun) wins. Mxyzptlk wins. Eddie Griffin wins.
Also, I must complain that the names did not have a long-enough length in MK Armageddon's Kreate A Fighter mode. I wanted some names to be longer. Ya know?
2 - Combine two coats into one
Remember how I had to use MS Paint to show my homemade estimation of what it would look like for Dick Tracy to wear a yellow coat over a black-and-white suit? In MK Armageddon, you can only pick one article of clothing at a time. So now imagine using a "combine" button to literally mix those two items together, acheiving the effect of Dick Tracy's complete costume in the game - the yellow coat, AND the black and white suit with a red tie, COMBINED.  Really, the game only lets you select one or the other.  The "combine" feature would be like MK Mythologies: Sub-Zero, which lets you combine things like Herbs and Potions into one blended item, like the Healer.  Possibly, some combinations would be deemed impossible.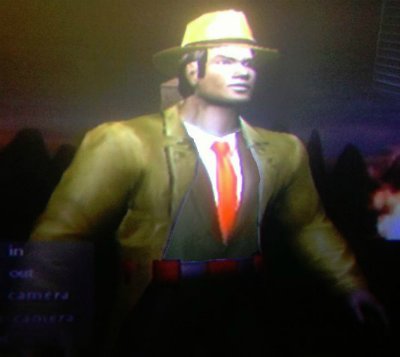 Combining two outfits would sure open up some doorways.
3 - At least 4 Custom Character slots on the character select screen
Not since "Mario Paint" have I seen a video-game that's all about your own customizeable input. But what it's missing is the availability of 4 separate characters right off the bat.
Here's the thing about MK Armageddon's custom characters.  You can pretty much only have one at a time.  The game only handles ONE character per profile.  In order to get around this limitation, you can create multiple profiles and keep one character per profile. This involves logging in and out repeatedly, using passwords every time.
Now imagine how much nicer it might be to have 4 Custom Character slots, clearly identified as such, per profile.
Another great idea - making a 2-D snapshot picture of the finished 3-D model, to create a picture for the character select screen.  That technically would have to be possible.  Very possible.  Maybe even have a camera studio mode where you position the game's camera angle just right to establish that snapshot - the 3-D custom character against a host of backdrops.
It should then be marketed in a more "Insert you and your friends into the game!" kind of social-gaming light.
4 - Create A Chest Symbol 
This is what is really, truly missing from Kreate A Fighter thus far: the ability to draw anything and thus make anything.
One thing I'm missing from my picture of Bizarro is his chest symbol. Same for Superman Red, Superman Blue, and Flash Gordon.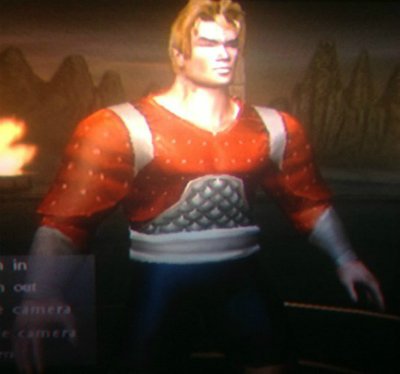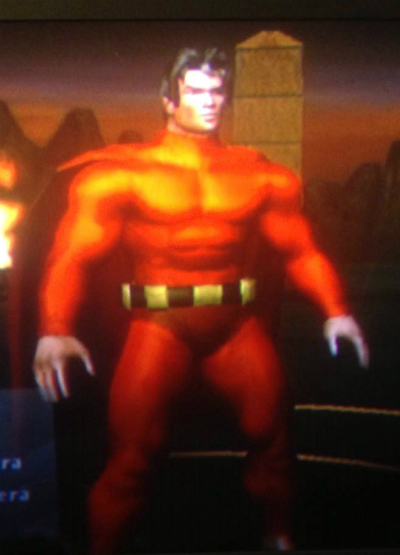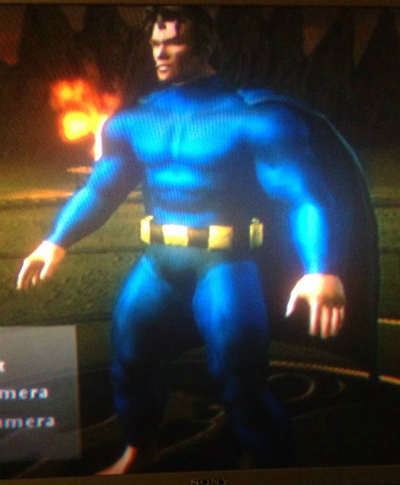 Imagine being able to draw a chest symbol over these characters.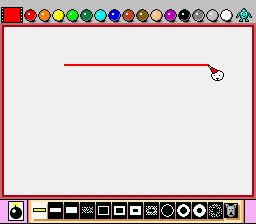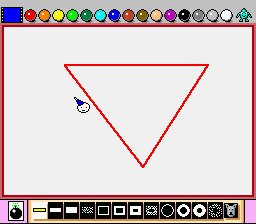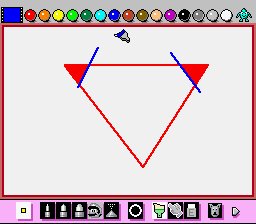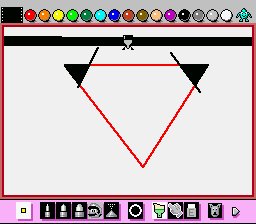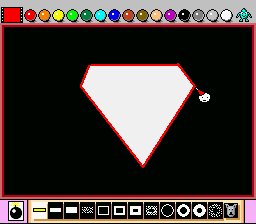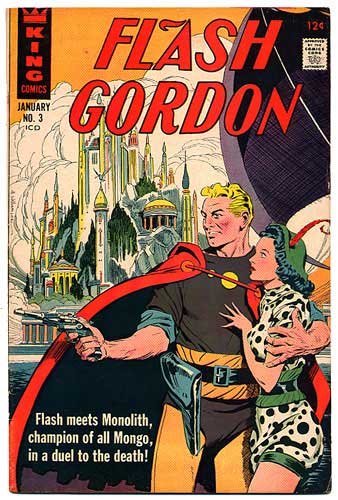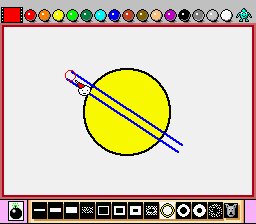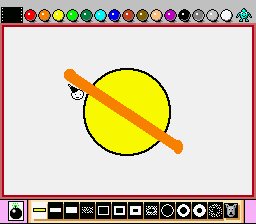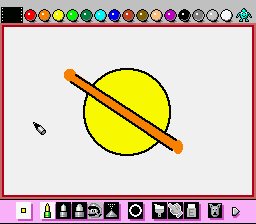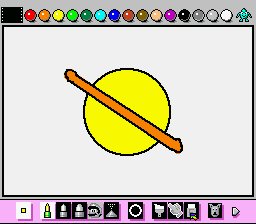 In Mario Paint, you can draw freehand to make circles, triangles, squares, rectangles, ovals, or simply draw freehand.  I think there should be a chest symbol option in MK's KaF, where you draw stuff freehand and the design then gets applied over the chest. I could use those shape tools and some freehand to make the Flash Gordon chest symbol, or various other things.
5 - Height, Weight, and Age Control
Back in 2001, Tony Hawk's Pro Skater 2, on the PlayStation, was an enormous success. It's no coincidence that one of the most successful games of that time had a create-a-skater mode, allowing you to insert into the game anyone from real life. So, I could play as myself on a skateboard, and it would look just like me.
You could set the age, the height, the weight. MK Armageddon has three sizes in small, medium, and large, but I think it should be more like a copy of Tony Hawk's Pro Skater 2, setting the height in feet and inches, setting the weight by pound, and the age, making someone skinny as a twig or fat. I was skinny at that time, and put in my own true weight, probably 107 lbs. at the time, and was shocked by how real it looked in the game. They even had my skinny arms. Golly.
John Hammond from Jurassic Park just does not look enough like the movie John Hammond. I also was unable to make Beavis and Butt-Head skinny or thin instead of bulky and muscular.
Also, the "old" face in MK Armageddon's KAF mode is what is used to establish an old appearance (check out Nick Fury, below), but if you could set the number in years, you could easily create a 17-year-old Robin or a 31-year-old Robin.
6 - Use A Gloved Hand To Ditch Individual Items
See the gold shoulders in the Raiden costume? Imagine using a gloved hand mouse cursor, moved around by the controller's analog joysticks, to pick individual items from a costume to select for deletion. This would drastically alter an entire costume.
7 - Female Characters Putting On Male Articles Of Clothing
Blue jeans, for instance, do not belong exclusively to men. All the female costumes in the KAF mode were just a big assortment of skimpy, sexual outfits, and there's almost nothing in that mode that you would want your daughter to wear outside. I think there should be more articles of clothing that you would be okay with your daughter wearing outside, and they should simply be able to take from the male assortment of articles of clothing, from the Fedora hats to the buttoned golf shirts to the suit and tie. Whatever was already purchased in the male side could be accessed by the female characters. For instance, in MK Armageddon, female characters cannot wear the male superhero pants.
8 - Face Manipulation ala Super Mario 64
Come on, man, admit it. In 1996, who didn't spend hours and hours ****ing around with Mario's face in Super Mario 64? That should be the means of stretching or warping eyebrows, eyes, and other facial features, because if it's possible on the N64 then it must be possible on the X-Box and newer systems. This would also help guarantee that you are not simply selecting from a list of preprogrammed faces.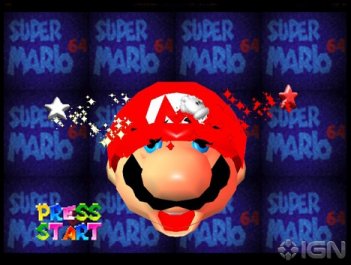 From "www.ign.com/articles/2011/09/28/the-genius-of-super-mario-64"
9 - Not Just Solid Colors, But Also Pattern Textures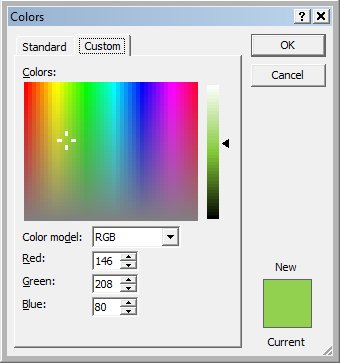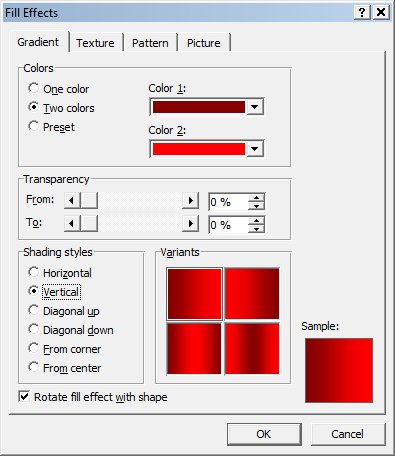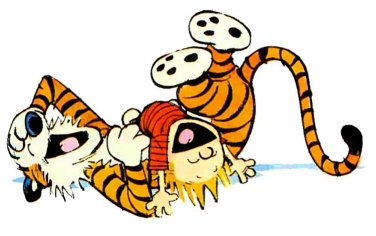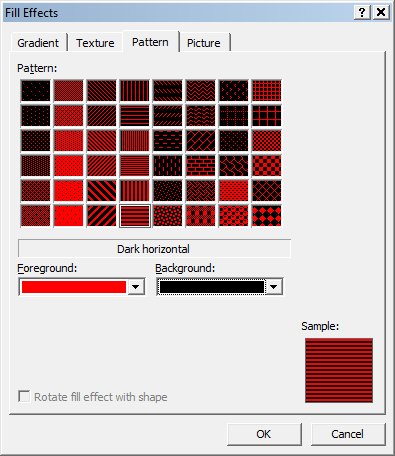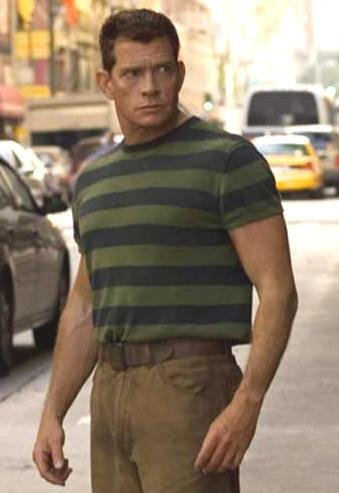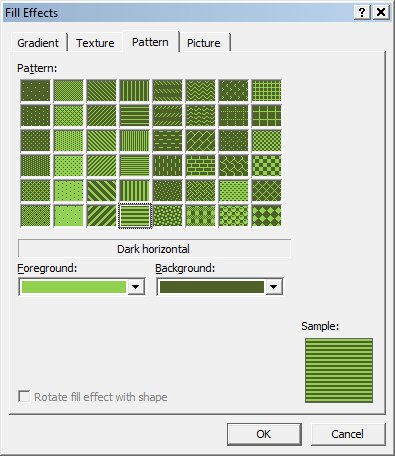 10 - Basically Just More Outfits Available
The male selection of clothing could use a little more, and the female selection could use a lot more.  But remember, only costumes that you would be A-OK with your daughter wearing outdoors in an area that's expected to have a lot of people around.  As for fictional characters I try to insert into the game, I was able to think of a few familiar characters not yet possible.
Metroid. Maybe a "tech armor" suit.  The different colors would apply to the Metroid games - orange, yellow, blue.
Mario and Luigi. This is one reason I say it's very important to have 4 slots available, all the time. Imagine Mario and Luigi, side by side, in Slots 1 and 2, with Luigi being slightly taller and thinner. "Overalls" are missing from the male wardrobe selection. I cannot completely the make Super Mario Bros. However, it should be possible to change one or both of the solid colors to textures, like Microsoft Word's WordArt. Thus, the blue in Mario's overalls could be set to plaid, ala the Super Mario Bros. Super Show!'s live-action segments. Also, keeping adding enough hairstyles, moustache styles, and clothing articles to make possible the Movie Version of Mario (with the blue breast pockets over the red chest and torso), Movie Version of Luigi, Movie Big Bertha (spikes), and the Movie Version of Daisy.
The Cat in the Hat. That is certainly a hat that is missing. If it's already possible to create a reptilian character, a Cat in the Hat-intended preset should not be too difficult to imagine.
Good Burger hats.  Why not?  Also, the striped shirt should be an option, like the blue and white vertical stripes of the Good Burger outfit, and also the horizontal stripes of Sandman and Calvin.  Further, pretty much any article of clothing should be available in any color as well as a "striped" texture design, available in several level of thickness, and in plaid, and other two-color textures.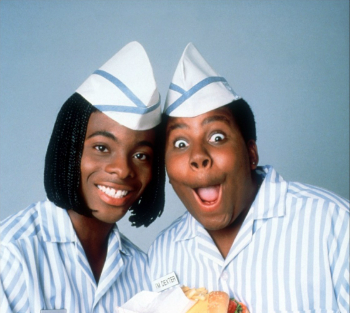 The kids from Good Burger.  Adding the hairstyles, hat types, and striped pattern would build up the Kreate A Fighter mode.
Tony Hawk, Pro Skater. Is it possible to make him in the game?
Dante and Randall. Almost possible, yet not quite. A sweater option is missing, to make Dante.  Randall is lacking a "short sleeves" option in his coat - the only detail missing in my MK version of Randall.  I say, "short, medium, or long sleeves" should be an option for pretty much all shirt-type articles of clothing, with no extra charge.  Yes, Kevin Smith's work could influence Mortal Kombat, why not.  I had fun making Jay and Silent Bob in the game.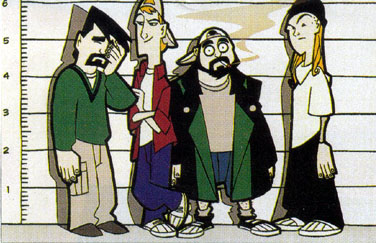 Only a couple things are really missing to make these characters, such as a real sweater for Dante, a short-sleeves option for Randall, and maybe another thing or two like the moustaches and beards.  In fact, beards should always be a whole separate option than hair.
Green Goblin. The wizard cap is the closest I was able to get to the Green Goblin's headgear. I say, that . . . whatever you call it article of headgear should be available in three sizes, short, medium, and long, to make the Green Goblin or Link.
"Wild, crazy tongue", ala Venom, and Demogoblin, should be an option.  As long as Baraka's grin is an option, why not?  I could improve my version of Demogoblin by inserting a wild, crazy tongue, after stretching out the Tarkatan grin.
You should be able to not only draw a chest symbol, but also draw one layer of drawing over the 3-D model's chest and torso, to draw, say, Venom's large white symbol.  The white design over the Parasite.  Or, let's say, use a freehand drawing tool to create a black outline of a shape, and instead of filling in the inside with a solid color, erase the inside, to remove one chunk of cloth from Elektra's red costume, making it look more exact to Elektra.
Of course, in 2006's MK Armageddon, I noticed some hairstyles and clothing articles in the Kreate A Fighter mode intended to recreate Guile from Street Fighter II, Akuma, Sailor Moon, and a couple other familiar characters.  I say, it does not ALL have to be inspired by non-MK characters.  I think the developers should focus on trying to replicate the Movie Versions of Liu Kang, Johnny Cage, Sonya, Shang Tsung, Jade, and Jax. Jade's hairstyle in MK: Annihilation seems to be missing from the Kreate A Fighter mode. Sonya's hairstyle. Are all those movie costumes all possible yet? That should be the goal - making it so that all the MK Movie Version costumes could be accomplished in the game. While mostly suiting Mortal Kombat's needs, this would also open up the doorways to who knows how many possible outfits.
Maybe there should be some bonus characters found simply by typing in their name!  For instance, name a character Ed Boon, and automatically the preset would appear.  A John Tobias preset.  Therefore, it would be possible to use their moustaches, eyebrows, and other unique features on any and all characters.
Of course, 4 slots being available from the start would make it a more fun experience when played by many people at once, to insert people you know from real life into the game, and/or shock and surprise people who don't yet know of this feature.  Also, it seems to be impossible thus far to make a perfect version of Kitana's MK2 costume.
Finally, soon as I can, I've gotta make this posse.  This is another good reason why 4 slots should be available at any time per profile.